"Grand Theft Auto" Gambling? The Bold Future of Online Gaming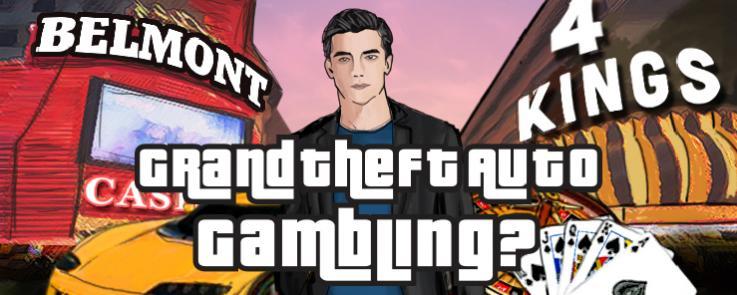 The UK online gambling industry appears to rebounding after several years of sluggish growth, as a growing number of millennials are expressing an interest in online gambling. Online gamblers have traditionally skewed younger, but the group is still growing steadily - and the industry itself must do what it takes to align itself with this growing base of millennials to become sustainable.
CHALLENGES REACHING UK MILLENNIALS
Thus far, millennials have been surprisingly reluctant to participate in traditional casino games, whose owners have found that millennials tend to spend more money on drinks and tabletop games (which come with correspondingly low margins).
 
Online casinos, on the other hand, have had better luck attracting millennials than traditional casinos, though studies suggest that they still aren't reaching as many young adults as they could.
 
One of the issues driving this trend has been the consideration that many of the most popular casino games are geared towards older adults. According to a study from Spectrum Gambling, the average age of online gamblers is around 35, while the average age of online casino players is over 40.
 
At first glance, this research seems to contradict other data showing that online gambling participation rates among young adults are higher. However, the analysis makes sense when you consider that millennials make up a smaller share of the population - so even though participation rates are higher, the average age tends to skew closer to 40. This should be a cause for concern for casinos if these older players start to cut their consumption as they age.
The good news, however, is that there's ample evidence that the number of young, active gamblers in the UK is on the rise. Indeed, a report from the UK Gambling Commission indicates that millennials will help drive growth in the online gaming industry in the years to come.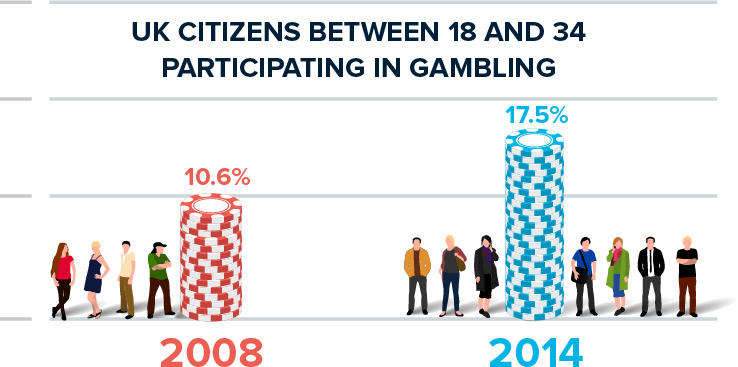 The UK Gambling Commission recently released a new report that highlights many of the trends in the online gambling industry. One of the findings of the report showed that the base of online gamblers has been skewing younger over the past few years. In 2008, 10.6% of UK citizens between the ages of 18 and 34 participated in any form of gambling. That figure rose to 17.5% by 2014.
 
The proportion of young adults in this age group participating in remote gambling increased more modestly, but the change was still statistically significant. The UKGC report shows that 18.9% of millennials used remote gaming sites in 2014, compared to 14.8% in 2008.
 

RISE IN YOUNG ADULTS USING ONLINE GAMBLING PLATFORMS
The rise in millennials using remote gaming sites indicates a closer alignment with the industry. The proportion of older players rose as well, but drawing younger players is a more crucial consideration when it comes to preventing the market from contracting as older players stop playing in the face of either a reduction in spending in retirement or a loss of interest as they enter the later years of their lives.
FACTORS PRECIPITATING THE RISE IN YOUNG PLAYERS
Industry insiders are encouraged by the rising number of young adults that are turning to the online gaming industry, due to a number of factors that have played a role in luring millennials to online gambling.

INCREASE IN SMARTPHONE USE
Mobile devices are reshaping the online gambling industry. The Global Online Gambling & Betting Market 2014 shows that mobile gambling is growing well over 10% annually and is expected to account for about 40% of the online gambling market within the next three years.

 
Mobile devices also improve accessibility to online gambling sites. An estimated 91% of UK millennials currently own a smartphone. It is hardly surprising that increased smartphone ownership among millennials is leading to more young adults gambling.
IMPROVING ECONOMY
The improving economy may also be playing an important role in strength of the online gambling market, and there's a strong likelihood that it's driving demand among young customers.
 
A recent report from the Organisation for Economic Co-operation and Development (OECD) shows that the UK economy is the fastest growing among all OECD member nations. The robust economy is creating more jobs for the young adults that had been dubbed the "Lost Generation," due to its struggles with joblessness. Many young people that were barely scraping by are now able to afford to spend money on leisurely activities, such as online poker and casino games.
FEWER SECURITY CONCERNS
Young adults may have also been reluctant to experiment with remote gambling due to the security concerns that were formerly associated with online gaming - especially when so many companies were based overseas. However, now that some gaming providers are returning to the UK after the point of consumption tax took hold - and given the enhanced security measures many online casinos have taken - players are becoming increasingly comfortable gambling online.
INCREASED ACCEPTANCE
According to a study by a trio of researchers from Trent University in Nottingham, online gambling is becoming more acceptable. Several factors appear to be driving the change.
One of the biggest concerns about online gambling over the years was the risk of fraud. When the industry first emerged, many gaming providers operated in remote countries with little or no regulation. Since then, however, the U.K. government has collaborated with other jurisdictions to ensure citizens know which gaming sites are most reputable and which should be avoided.
Young adults are, in fact, more likely to participate in online gambling if they're familiar with the brand of a given online casino. Many casinos (including all of us here at 888) have gained this needed exposure through major events such as the WSOP, which have helped make young adults feel more confident in the integrity of the online gambling industry.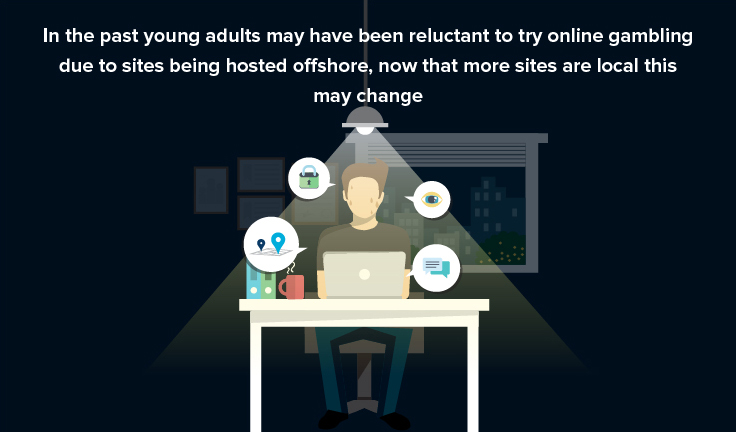 MORE OPTIONS FOR ANONYMITY
Protecting online privacy remains a top concern for many millennials, especially after reports that the American NSA apparently has been spying on UK citizens (though privacy was a concern for millennials even before Edward Snowden released this information). These young players may have, therefore, been reluctant to play casino games online out of the fear that it would reflect negatively on them if anyone else found out.
Fortunately, the ability to play anonymously has improved in recent years. While regulated online gambling providers are required to verify the identity of their patrons, millennials can still shield their identity by using proxies or taking advantage of bitcoin deposit options.
Steps Gaming Providers Will Need to Take to Earn Millennial Customers
While millennials are becoming more open to trying online gambling, gaming providers may still not be reaching all potential players that could be interested in their services if the games they offer are geared more towards older citizens.
Savvy gaming providers recognize this change and are already taking new steps to reach younger players. Here are some changes that are on the horizon:
MORE SKILL BASED GAMES
 Industry experts have observed that when millennials gamble, they generally prefer skill-based games such as poker or blackjack over slots. This appears to hold true for both young adults gambling over the Internet and visiting a live casino. According to Gary Thompson of Caesars Entertainment: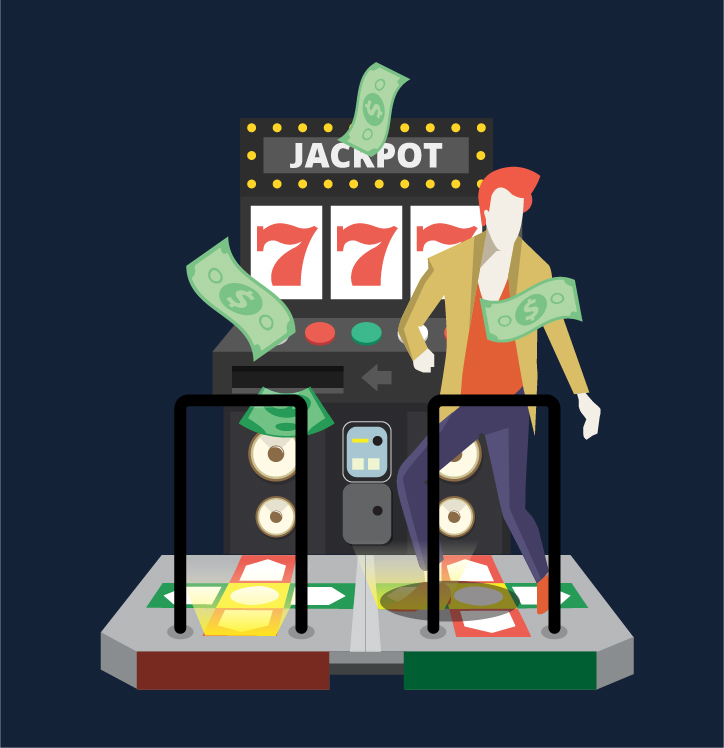 "Millennials typically find traditional slot machines boring because there's little or no skill involved, they'd much rather play games where there's an element of skill and the opportunity to socialize or compete with friends while doing so."
With this in mind, UK gaming providers may wind up following a similar strategy as the many land-based casinos in Las Vegas. Greg Giuffria, a developer for the online gambling industry, has stated that investing more heavily in skill-based gambling to penetrate the base of younger customers for online gambling is essential for providers to survive. Younger adults tend to enjoy games like online blackjack, but will appreciate games that require more active participation.
"The next wave of people aren't going to stand there and play slots," Giuffria said. "The industry has to change or disappear."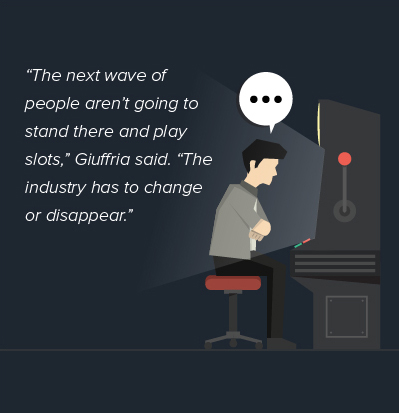 Giuffria and other gaming industry experts believe that future games will look like a combination of traditional roulette games and video games. Of course, gaming providers are developing these games carefully to ensure they maintain their house advantage. The introduction of skill-based components is intended to make the games more entertaining, rather than to give players a greater chance of winning.
"You can get better at a video game than I'm sure they will allow you to get at a skill-based slot machine,"
said one industry expert.
While most of the initial discussion has centered around the future of skill-based gambling in the traditional casino industry, it's likely to play a role in the online gaming world as well. These changes should make the games more appealing to younger adults that grew up playing video games.
According to The Telegraph, many video games such as Grand Theft Auto seem to be subtly introducing new features to open their players' eyes to the world of online gambling. There's even a possibility that forward-thinking gaming providers could collaborate with video game manufacturers to merge the experiences that younger players have grown accustomed to into a mutually-beneficial product.
BRINGING MORE CREATIVITY TO CASINO GAMES
Research conducted by the UK Gambling Commission indicates that there are three primary motivations driving gaming machine play: personal, structural and situational characteristics. Identifying how these factors apply to millennial gamblers will be critical to retaining their interest in both online and offline gaming.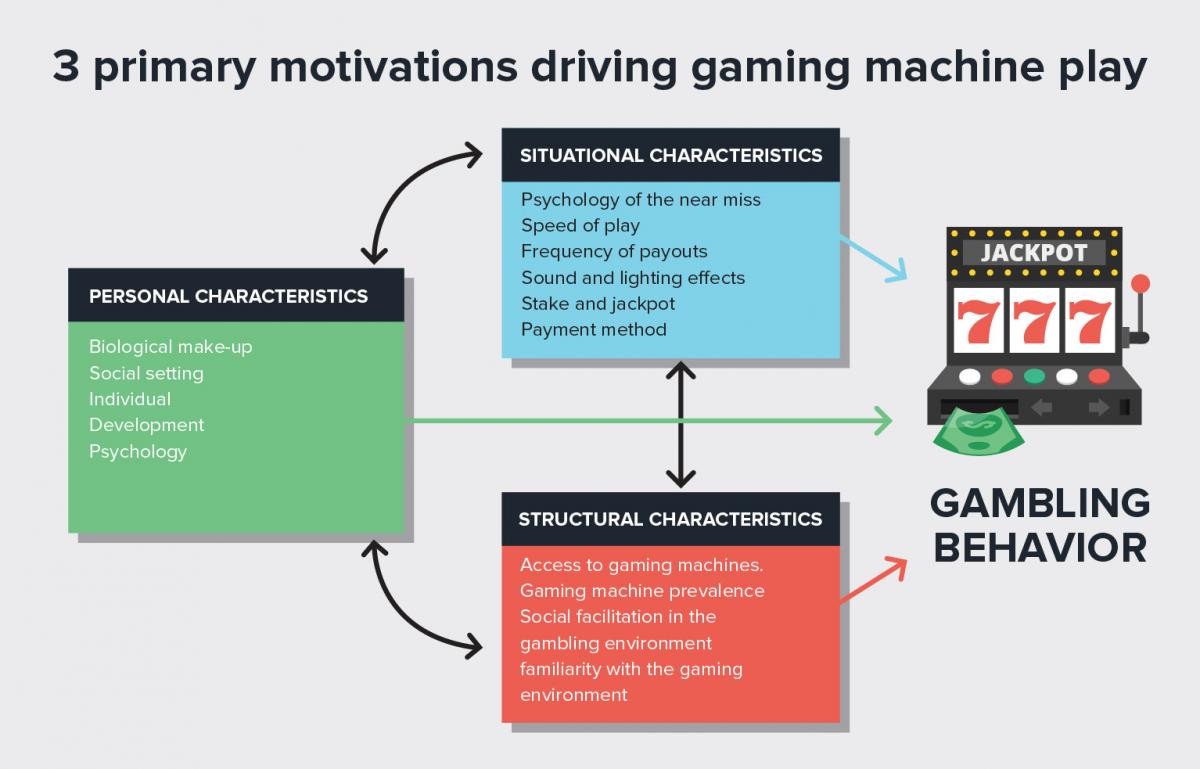 Creativity is also key to gaining the loyalty of millennial gamblers. Karl Moore of Forbes pointed out that millennials were the generation that gave birth to social media and other disruptive technologies: they're constantly expecting novel experiences, so gaming providers will need to keep innovating to earn their business.
A 2013 report from Gamasutra pointed out that innovation had lagged since the birth of the online gambling industry, though industry CEOs have recently decided to put a greater focus on innovation in the years to come. Mor Weizer, the CEO of Playtech, is one of the industry leaders that emphasized the need to be more creative to improve the experience.
"Even from the existing player base, you can get more and provide them with a better experience [with innovation]," Weizer told Gamasustra.
They pointed out that stricter government regulations have stifled innovation in recent years, but argue that groundbreaking changes could be coming very soon - likely in the form of new mobile technology that'll overhaul the online gambling experience.
IGaming Ideas is one company that specializes in helping online gaming providers bring more innovative products to their customers - and they've seen a strong demand for their services in recent years:  
"More and more, we're finding start-ups coming to us and saying, 'Can you help us do what you're doing for established businesses?'" said iGaming Ideas founder, David Sargeant. "Start-ups have different challenges [than established companies]—different challenges with their product, challenges just proving their credibility—so out of all this came the brand, iGamingideas.com, which is essentially trying to help new ideas into the marketplace, which is no mean feat in the iGaming space as you know."
One of the most novel ideas brought by one of Sargeant's clients is a new algorithm that customizes the experience for their users. Essentially, the technology analyzes the content on the page, determines the relationship between the user and the gaming provider and dynamically generates content for the user to absorbing.
It's a fascinating concept, and it's one that online gaming providers need to consider carefully as they look to both their millennial recruitment efforts and the future.
GAMING

INDUSTRY IS ADAPTING TO GROWING NUMBER OF MILLENNIAL CUSTOMERS
While the average online gambler in the UK is around 40 years old, that age has been shifting younger and younger over time. Various technological, social and economic factors seem to be driving the change, partially in response to industry adaptations aimed at reaching the growing number of young adults that are becoming active online gamblers.
With all of this in mind, it's easy to see how the nature of online casino games could change significantly as the industry caters more and more to millennials. Classic slot games that have been unchanged for decades may give way to games that place a greater focus on skills, while new gaming experiences could come to resemble video games more closely than traditional casino games.

It's an exciting world for one, but we want to hear from you. How do you think the gaming industry will change in the coming years? Share your thoughts by leaving a comment below: